21st March 2023
Home Loan Transfer: How much can you save?
---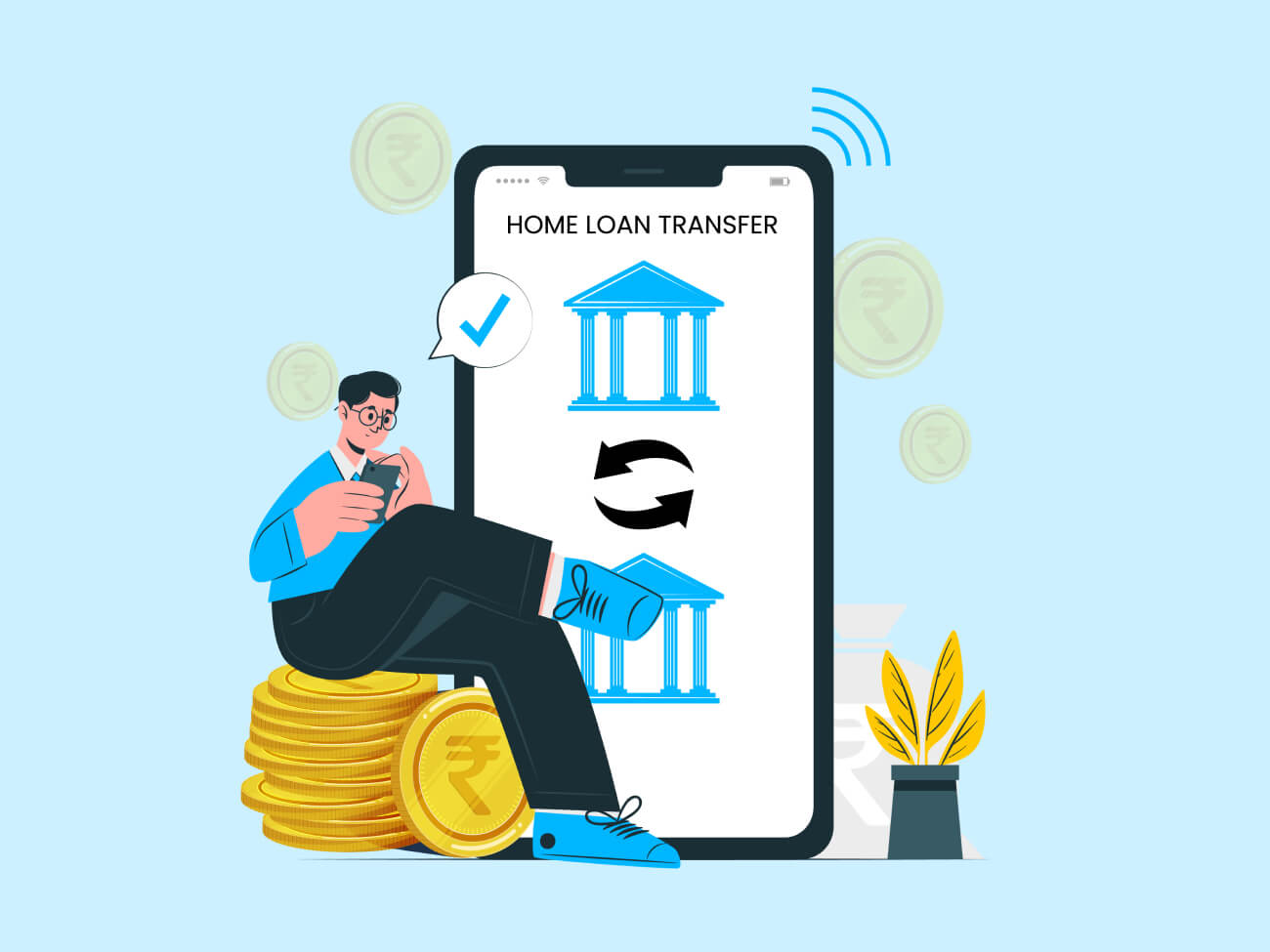 Do you remember the time you took out a home loan and then realized you could have gotten the same loan elsewhere at a much lower rate of interest? Having to deal with this can be disheartening. Fortunately, today you can explore the more lucrative option of transferring the balance of your home loan to another financial institution or bank. The number of borrowers transferring their home loan balances is steadily rising. Home loan transfers account for 20% of all home loans sanctioned, according to the Economic Times!
A home loan balance transfer or a loan switchover can prove to be quite an effective way to save money on your current loan. If you are apprehensive regarding the technicalities associated with the switchover, you are in the right place. In this article, we have provided a comprehensive guide to assist you in efficiently transitioning from one loan to another. We have included pointers that discuss the things you should consider before switching your loan, tips for effectively availing of a new loan, and details of the fees associated with the transfer process. This article will help you understand how much you can save by transferring your current home loan.
How is a balance transfer beneficial?
There are several factors you should take into account while considering a balance transfer. These include the amount currently outstanding, the EMI paid per month, the tenure of the loan that is remaining, and most importantly, the rate of interest provided by your current lender and the new lender. It is also important to take into account the processing fee that will be charged during the process of the transfer. Once you have considered all these factors, you can decide whether or not this move will be beneficial for you.
Here are ways by which transferring your home loan could help you. These are:
Explore different lenders and make sure that the interest rate being offered to you is at least 1% or 2% lower than your existing loan interest rate.
Make sure to read the terms and conditions of the balance transfer loan carefully, prior to signing the documents.
Be aware of the fees associated with the switchover, such as the transfer fee which ranges from 1-2% of the loan amount, and other administrative fees.
Always try to keep your credit score in shape prior to applying for the balance transfer, as having a good CIBIL score increases the chances of availing of better loan terms and interest rates.
It is important to remember that a balance transfer is not a good option if you are just a few months away from repaying your loan and interest completely. This is because the transfer process takes time (typically around one billing cycle). Hence, adding process fees to the burden of your repayment would end up making your loan more costly!
How much can you save with a home loan balance transfer?
Home loan services typically comprise a large amount of money, and very high-interest rates, ranging from 8% - 12%. Hence, even a slightly lower rate of interest may enable you to save a large amount of money in the long run.
The amount that you can save by transferring your home loan depends on the interest rate you are currently paying, the interest rate offered by the new lender, and the loan amount. The savings that you can reap can be significant if you choose to transfer your loan to a lender offering you comparatively lower interest rates. Let us take an example to illustrate the potential savings that you can make.
Calculating how much you can save may seem very tricky. But it is actually a simple process.
For example, assume the outstanding amount on the loan is Rs. 25,00,000, and that you pay an EMI of Rs. 29, 877 per month for 12 years (144 months). The interest rate offered by the bank you are considering switching to is 7%. In this case, the EMI payable per month will be Rs. 25710 for a period of 144 months. The total amount paid will be Rs. 37,02,172 - principal and interest, as compared to Rs. 43,02, 282 at the initial interest. You can end up saving a large amount of money with a balance transfer. You could also opt to pay a slightly higher EMI for a shorter tenure, and pay off your housing loan quicker, while still saving some money. It is recommended to transfer your home loan balance as early as possible during the repayment tenure. This will ensure that you end up saving as much as you possibly can.
Decisions regarding your finances should never be rushed, and this is the case with home finance as well. Lower rates of interest offered by lenders other than your own may seem attractive at first glance, but do not jump the gun and opt for balance transfers. Instead, you should question whether it will actually prove helpful for your finances in the long run.
Acquainting yourself with the transfer process can help you make the most of such financial opportunities and avoid any nasty surprises that may crop up. Staying well-informed every step of the way will ensure that the bedrock of your financial decisions remains strong; and that your long-term financial health is impacted positively.
Conclusion
Home loan balance transfers allow you to shift your loan from one lender to another, thus enabling you to avail better terms, interest rates, and loan amounts. We must remember to assess the interest rate offered to us prior to availing of such a loan, as well as the associated costs like the transfer fee and other administrative costs. Additionally, there are certain tips that you can follow to avail of the balance transfer to the greatest advantage, such as exploring different lenders before arriving at a decision, being aware of the related fees, and using the pre-payment facility to reduce the loan burden. Ultimately, you can save an amount ranging from Rs. 1-2 lakhs. If you use this guide to conduct your switchover, you can definitely save a lot in terms of interest outgo.
---